Adidas LX24 – Compo 1 (2018/19)
Last updated on March 11, 2020 12:34 pm
Add to wishlist
Added to wishlist
Removed from wishlist
0
Add to compare
Power
Ease for skills
Design
Value for money
+ Positives:
Dual Rod tech reduces vibration
Very good value for money
Great allrounder
Easy to pick up and play with
- Negatives:
Lower carbon % than other sticks, reducing power
Colour scheme, depending on preference



Adidas LX24 Compo 1 Hockey Stick Review



The Adidas LX24 Compo 1 is a great mid-range hockey stick. It's combination of 70% carbon, mid-bow mould and dualrod technology makes it one of the best all rounder hockey sticks on the market. Adidas sticks have been heavily discounted recently so this stick is a fantastic bargain to get your hands on.
Power
The Adidas LX24 isn't the most powerful in the market, but if you're looking for one which offers great all round performance, at a great price, then this is the stick for you. The flat face of the stick means you'll be able to quickly get up to speed with using it and the power you can generate from the stick is still quite incredible. If you're looking for a stick with more power, then you'll need to upgrade on the carbon percent, but then you'll more than likely be ending up paying more money too.
Technology
he Adidas Dual Rod system which is the main benefit for this stick. The dual rods have an aspect of foam injected into them, which helps to reduce vibrations. It does make the stick feel slightly head heavy, but in a game you won't notice it. This dual rod system gives the stick a far deeper and solid sensation when hitting with than other sticks. It's a great addition to a great stick.
Ease of skills
Whilst Adidas claim the stick is a mid-bow, the bow-point for the stick is actually incredibly low for a mid-bow – at 250mm. When compared to other mid-bow sticks, this stick will be far easier to execute the more advanced skills of the game, like 3D and aerials.
Design
The design of the stick is ok, but what really makes the stick stand out is unique Adidas LX24 mould. Adidas loves to differentiate their sticks by having a unique mould, and this is no different. The back of the stick has striations running down it, which certainly looks pretty cool.
Value for money
For the type of stick you're buying, you couldn't asked for a better priced stick. This stick could easily warrant paying over £300, so snap it up whilst you can.
---
Find the best price online
Last Amazon price update was: March 11, 2020 12:34 pm
×
Product prices and availability are accurate as of the date/time indicated and are subject to change. Any price and availability information displayed on Amazon.com (Amazon.in, Amazon.co.uk, Amazon.de, etc) at the time of purchase will apply to the purchase of this product.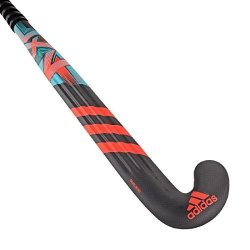 Adidas LX 24 Stick
Now at http://www.total-hockey.com.
Power
Ease for skills
Design
Value for money
+ Positives:
Dual Rod tech reduces vibration
Very good value for money
Great allrounder
Easy to pick up and play with
- Negatives:
Lower carbon % than other sticks, reducing power
Colour scheme, depending on preference
Specification:
Adidas LX24 – Compo 1 (2018/19)
| | |
| --- | --- |
| Title | adidas LX24 COMPO 1 Hockey Stick, Black, 36.5in L |
| Balance Point | 39.5cm |
| Bow Height | 24.5mm |
| Bow type | Mid Bow |
| Grooved Stick | No |
Adidas LX24 – Compo 1 (2018/19)